SeekingAlpha.com and SumZero.com published yesterday my article on Mintra. As both sites are accessible only to paying clients, I provide below full version of the article.
Mintra – going up even in current turmoil, reporting best quarters in Mintra´s history, strong cash generation, high cash balance, no debt, AND still the cheapest among Nordic peers. My base case is double share price this year.
Summary
Product and LNG tankers have the best year in decades. Energy exploration is booming. Mintra is a high beta play on these sectors.
Mintra was hammered during COVID. It is in recovery mode – up 70% from its lows this year, but still 60% down from its IPO in October 2020.
Mintra is still one of the cheapest vs Scandinavian peers.
Product and LNG tankers may not double this year. Mintra should.
Introduction to Mintra
Mintra Holding (MNTR.OL) is a Norway based parent company of several operating entities from Norway, the United Kingdom and Singapore. The company provides on-demand digital learning training and certification courses for safety critical industries worldwide. Mintra is listed in Norway on Euronext Growth. The stock can be traded on Interactive Brokers as well as other trading platforms.
(Multimedia INteractive TRAining) was founded in Oslo Norway, in 1997 by Research Engineer Ivar Viktil to develop interactive safety training for the energy and maritime industries. The headquarters are now in Bergen and offices in Oslo, Stavanger, Aberdeen, Limassol, and Singapore. Mintra provides services to over 4,000 companies, including 4 out of the top 5 largest energy companies in the world. Mintra has approximately 50% market share in its segment.
The Mintra team consists of over 140 designers, developers, industry consultants, and supporting functions working to the highest standards.
Mintra currently provides 2340 courses mainly for safety critical industries worldwide. 30% of courses are from Mintra library, the remainder is from its 67 eLearning partners.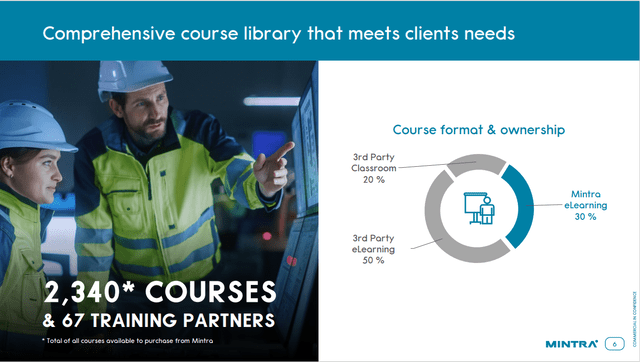 Training courses to Maritime and Energy crews represent 80% of Mintra business. Mintra is therefore highly correlated with Gas and Oil markets as well as with the Maritime industry.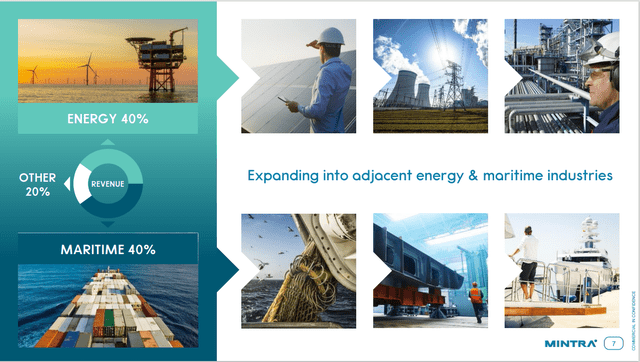 Mintra was a COVID victim
Mintra business is heavily dependent on frequency of rotation of maritime and shipping crews. Low degree of crew rotation during COVID meant low need for crew certifications and therefore lower need for crew courses.
… continuing inability of ship operators to conduct crew changes has been the single greatest operation challenge confronting the global shipping industry since the Second World War…

ICS Shipping on the crew change crises during Covid
The significant decrease in crew rotations led to revenue and profitability declines, resulting in share underperformance since the IPO.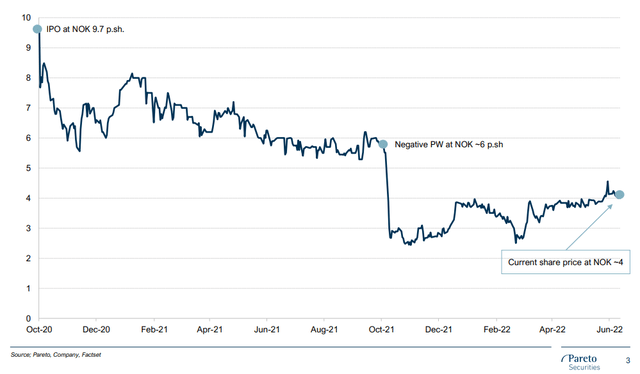 Mintra – great way to play the Shipping and Energy Boom
2022 is the year of Shipping and Energy. Product tankers and LNG tankers are flying up due to the Russian war on Ukraine. Container ships are rising higher on supply chain congestion. Oil and Gas markets have been booming. Rig operators are announcing the best rates in a decade. But mainly, all the Mintra clients are making a lot of money. Crews are rotating, so there is an increased need for Mintra training courses and online certifications. Mintra is the beneficiary of the shipping and energy turnaround.
Mintra's 1Q22 was its best quarter ever, 2Q22 should be even better
The turnaround in shipping and energy is already showing in Mintra's numbers. 1Q22 was Mintra's best quarter ever – Mintra generated a 10% FCF yield in the quarter. That is 40% annualized FCF! They can generate CF equal to their market capitalization in 2.5 years. 2Q22 will most likely be even better.
Broker consensus still assumes only 10% growth for 2022
Last year Mintra guided 10% revenue growth for 2022. That was well before the energy and shipping growth started. The guidance was not revised yet. It could happen during the Q2 report. We could easily see doubling of the growth guidance.
Mintra is still one of the cheapest Nordic tech companies despite being up 70% since March lows
As the share price graph above shows, Mintra is up 70% in three months. But it is still 60% below its 2020 IPO price of 9.7 NOK per share. Despite the strong share price performance this quarter, Mintra is still one of the cheapest tech stocks in the Nordics according to Pareto Securities.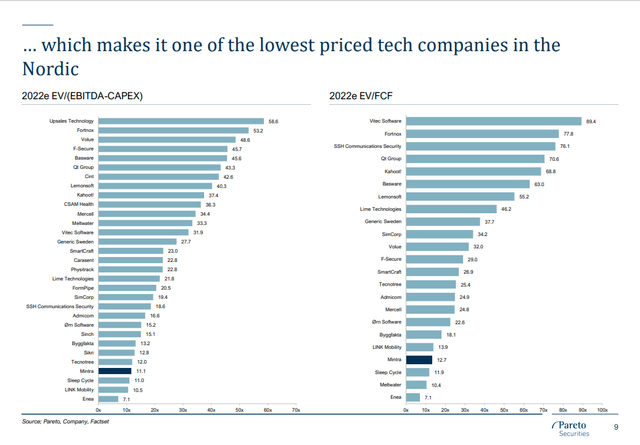 Mintra is net cash positive, has a strong balance sheet and healthy margins
As of the end of Q1, Mintra has a net cash position of 110 million NOK (cash balance has exceeded its small leverage). Based on the 2022 guidance, Mintra should be generating 28% EBITDA margins and 13% EBIT margins.
Mintra should at least double this year
Our base case is for Mintra to double this year. That would bring Mintra from the current 4 NOK to about 8 NOK, still well below its IPO price of 9.7 NOK. In this scenario, Mintra would remain one of the cheapest tech stocks in the Nordics.
Catalysts
The main catalyst is the Q2 report scheduled for 11 August 2022. The Q2 report should be the best quarter the company ever reported. In addition, the Q2 report may include new full-year guidance.
Conclusion
2022 should be the year of Energy and Shipping. Mintra should be the beneficiary of the boom. Mintra has a strong balance sheet, no debt, and strong cash generation. In the current environment, Mintra should generate cash equal to its capitalization in under three years. Mintra is still one of its peers' cheapest stocks while reporting the best quarterly results ever. It's a good opportunity to buy a good company cheaply.
Go to SeekingAlpha to see the full article
Disclosure:
The goal of the blog is to provide investment ideas for further research. I/we have a beneficial position in the shares discussed above either through stock ownership, options, or other derivatives. I wrote this article myself, and it expresses my own opinions. I am not receiving compensation for it. I have no business relationship with any company whose stock is mentioned in this article. The article does not represent investment advice. Please do your own research before making any investment action.