SeekingAlpha, the world largest investment ideas site published the below article on Biovica. With author agreement we publish below.
Summary
In cancer treatment – the speed of cancer monitoring drives survival. Biovica breast cancer test can quickly detect if the selected medication is working or not.
Biovica biomarker breast cancer test can detect cancer progression at least 60 days earlier than imaging. And 3-10 times cheaper.
Bloomberg just reported "Biomarkers are Dramatically Changing Cancer treatment". Biovica was the first-ever FDA-approved Biomarker test for cancer. It has the potential to be one of the market leaders.
Very strong clinical data – 28 studies including from the most prominent US hospitals (Mayo Clinic, John Hopkins, the Dana-Farber Cancer Institute).
Market potential > $2 billion for monitoring of metastatic cancer.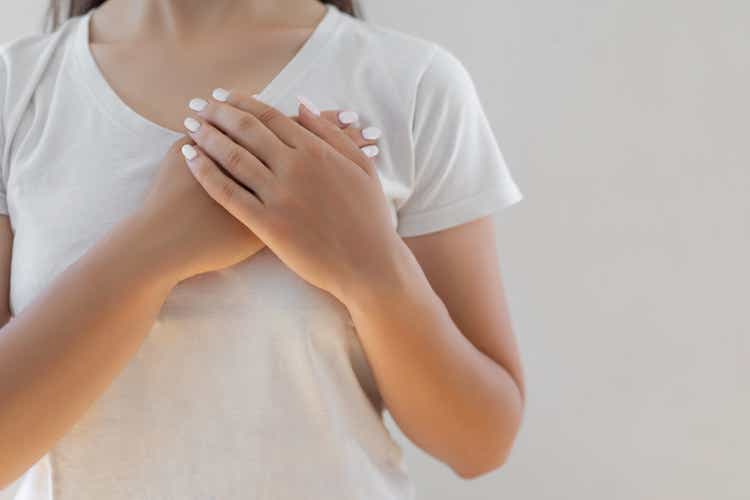 Introduction to Biovica International
Biovica International (STO:BIOVIC.B) is a biotech company with a laboratory, production facility, head office in Uppsala, Sweden and a laboratory in San Diego, US.
Biovica has the first FDA approved cancer biomarker test that can detect Breast Cancer progression at least 60 days earlier and 3-10 times cheaper than currently used imaging procedures.
Biomarkers are changing the way cancer is treated. Biovica´s biomarker test has the potential to become the leading force in disrupting and changing the way the cancer is tested and treated today.
The test is a result of 35 years of research at Uppsala University, the most prominent university in Sweden.
Biovica has a primary listing in Stockholm with SEk400 million (USD40 million) market capitalization. The company has 2022 year end projected net cash position of SEK 133 million (USD 13 million).
The DiviTum® TKa test development was supported by funding from the very prestigious European Commission Horizon 2020 program.
Management owns 15% of the company. The CEO invested SEK 10 million in the recent SEK148 million capital raise (USD 1 million) in cash, which I understand is a very material amount given his net worth. You do not often see the CEO of a company this size investing such a material cash amount. It is a strong rubber stamp of confidence in the project. The incentives of management are therefore aligned with the other shareholders.
Bloomberg: Biomarkers are Dramatically Changing Cancer Treatment
On 13 February 2023 Bloomberg published an article titled The Global Cancer Biomarkers Market to Upsurge at a Tremendous CAGR 14% by 2027.
The article talks in length about how biomarker testing is changing the way cancer is treated and predicts a very bright future for Biomarker:
The use of biomarkers in cancer treatment has changed the course of treatment dramatically. For decades, many cancers were treated in the same way: with surgery, radiation therapy, or chemotherapy. The identification of biomarkers in cancer cells has resulted in the development of novel precision medicine treatments, such as targeted therapy and immunotherapy, which are designed to target specific traits in cancer cells while causing minimal harm to healthy cells.
The FDA Approval
At the end of July 2022, the Company received 510(K) clearance from the FDA in the US for DiviTum TKa as a tool for monitoring disease progression in post-menopausal women with hormone receptor positive metastatic breast cancer. FDA recommended monthly testing of cancer progression.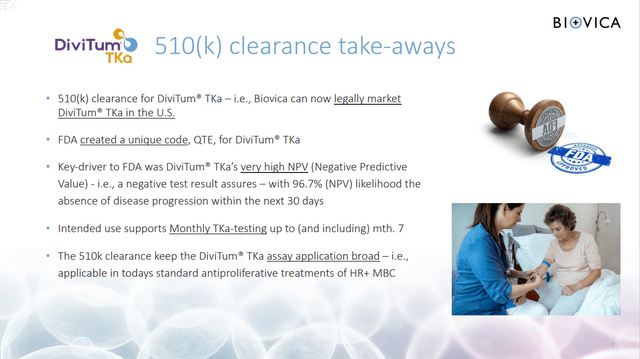 The topline conclusion from DiviTum's clinical data within MBC is that it can predict whether a patient is not progressing within the coming 30 days (treatment is working) with 96.7% accuracy and the coming 60 days with 93.5% accuracy. This indicates that frequent testing allows for a sort of "live monitoring" of what the cancer is doing. That this is not common is supported by the fact that it is the first such blood-based biomarker approved by the FDA.
The Opportunity – Covid Delayed the FDA Approval Driving the Share Price Lower
Biovica's market capitalization is down 80% from its peak of SEK2 billion in August 2021 to the current SEK400 million now.
Market capitalization Graph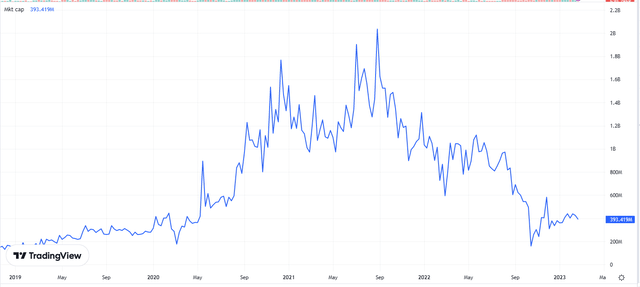 Pareto Securities issued detailed research on Biovica dated 10 February 2023. Their summary of the share price decrease:
… the company has been simply unlucky…. By no fault of its own, the flood of COVID-19 diagnostics has stalled Biovica's submission for over 1.5 years, causing a continuous decline in the share price. With the FDA approval finally obtained in July 2022, the market conditions dictated a strong discount for autumn 2022's rights issue while causing a 37.5% dilution – beating the share price down to the current low levels…
Biovica Has A Market Disruptive Product
Biovica's biomarker test has the potential to disrupt and change the way breast cancer is tested today. Breast cancer is the most common cancer form – there is a big market for the product, treatments are very expensive, fast detention can increase survival and the test is much cheaper than currently used methods.
Breast Cancer – the Most Common Cancer Form
Breast cancer is the most common form of cancer among women around the world.
An estimated 450,000 patients in the EU and the US are living with metastatic breast cancer, and breast cancer is responsible for more than 40,000 deaths each year solely in the US.
These deaths are due to the disease spreading through the body and affecting critical organs. The cancer is generally incurable if it has metastasised, but recent new treatments have increased the quality of life and lengthened the time a patient can live with metastatic breast cancer.
The number of available treatments has also increased. Metastatic breast cancer is a chronic disease that requires lifelong treatment, approximately 29 percent of patients live longer than five years.
Breast Cancer Treatment is Very Expensive
Approximately 80 percent of all breast cancer patients have hormone receptor-positive cancer. The leading suppliers of CDK4/6 inhibitors are Pfizer with Ibrance, Novartis with Kisqali and Eli Lilly with Verzenio.
In 2020, sales for these three CDK4/6 inhibitors were estimated by Research Nester to amount to approximately USD 7 billion
Frequent Cancer Progression Testing is Vital
There is a significant need for being able to evaluate the effect of treatment more easily and quickly. Additionally, many cancer treatments involve serious side effects which should only be accepted if monitoring verifies that the treatment is effective.
Current Diagnostic Procedures are Expensive and Results Take a Long Time
A number of tests and methods are run repeatedly and regularly to assess how the disease is progressing.
In most instances, a single test will not provide a definitive answer, which is why many different tests are run repeatedly.
Current diagnostic procedures are expensive, complex and require time for monitoring and imaging that exposes the patient to radiation, injections with tracing etc., which is sub-optimal for the health care system and stressful for patients. External advisors and oncologists suggest that a blood-based test such as DiviTum TKa could be used on a monthly basis early on during treatment, and every three months thereafter.
Biovica's DiviTum TKa can detect cancer progression 60 days earlier than imaging.
The DiviTum Cancer Test
Cancer diagnostics is a strongly evolving field. DiviTum is an innovative test developed with the aim to evaluate cancer progress. The test measures the activity of the enzyme Thymidine Kinase-1 ("TK") in blood serum or cell cultures. In normal cells, TK activity is hardly detectable, but in cancer-affected cells, its levels increase. Since the degree of TK activity is highly associated with the rate of cell proliferation, it is a particularly suitable biomarker for researching tumor aggressiveness.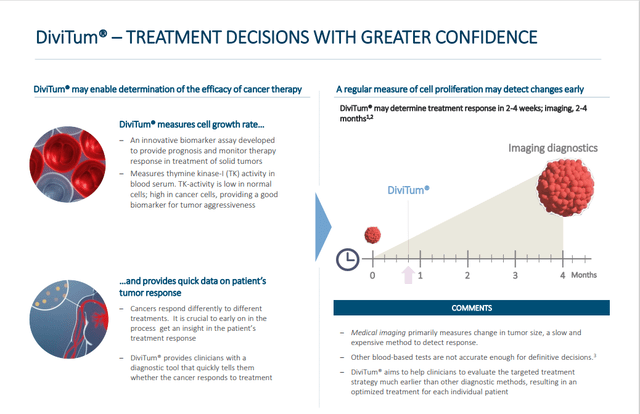 DiviTum offers several advantages over alternative testing:
Rapid Evaluation – DiviTum proved that it can detect if a patient is responding to a treatment or not already after 14 days. The current techniques require 3-4 months.
Cost savings on treatments – DiviTum proved that it can quickly recognize if the current cancer treatment is working. The cancer treatments are very expensive. The DiviTum would reduce the use of treatments that are not benefiting the patient.
Costs savings on testing – MRI testing price ranges between USD 300-3500, PET Scan costs USD 1250 – 9200. The analysts expect the DiviTum would cost USD 300 – 750. That is significantly below competing tests.
Easily obtainable samples for testing – samples can be obtained from patients in any laboratory.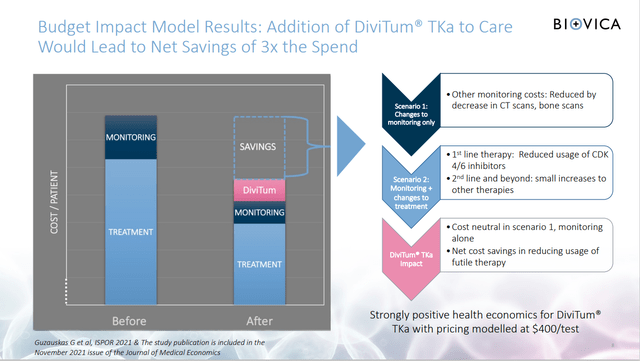 Strong Scientific Backing
The Company has published 13 scientific articles from clinical breast cancer studies that encompass over 4,700 breast cancer patients, and a total of 28 clinical studies.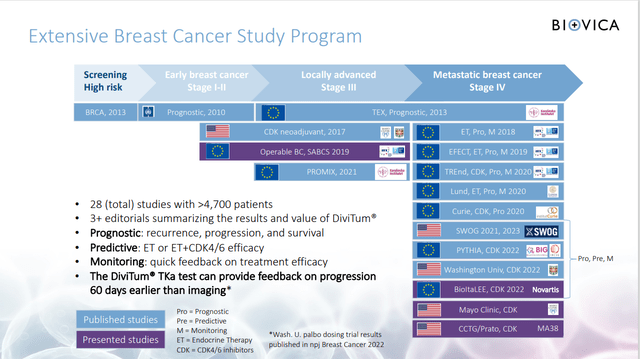 These studies have documented the ability of DiviTum TKa to measure cell proliferation as well as its utility as a prognostic tool for patient survival and as a monitor of treatment efficacy in patients with breast cancer.
No Real Competition
Pareto Analyst Dan Akshuti wrote in his initiation research on Biovica:
"With the exceptions of AroCell and DiaSorin, we have not found any companies that have clinically evaluated their products. All of the companies observed sell their products for research use only. Costs for the kits vary enormously (e.g. USD 2,030 for Eagle Biosciences' kit and USD 703 for Abcam's kit), and due to non-clinically validated regulatory approval in any kind of indication, we do not consider the kits as competitors to DiviTum."
US Product Launch in 1Q23, European Launch in 2Q23
The Company is launching DiviTum TKa in the US market during the first quarter of 2023.
In Europe, the product holds IVD-D approval and will be launched in selected markets during the second quarter of 2023 through strong partnerships with major industrial players.
Biovica has retained an exceptionally strong senior team for the US Product launch.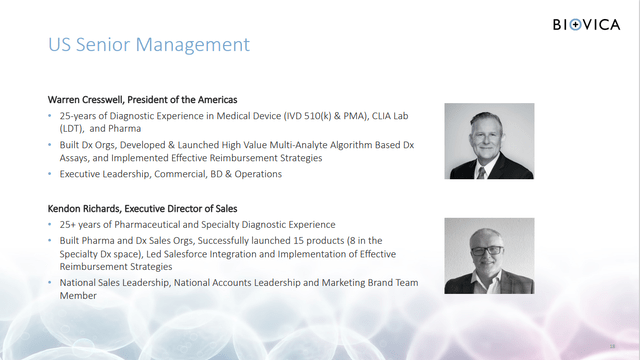 The middle management sales team consist of six US regional directors with a combined 128 years of medical sales experience.
Strong Revenue Potential
The prices per DiviTum test are estimated by the Pareto analyst at USD 450 in the US and USD 250 in EU4+UK. Assuming seven tests a year per patient, they assume an annual US price of USD 3,150 and USD 1,750 in Europe. Peak market penetration is assumed to be 20% in the US and 19% in EU4+UK.
Pareto states:
"The peak penetration is likely underestimated considering the simplicity of the test. We will adjust this as with other values upwards as soon as we can see that the launch curve is steeper than ours… We were very conservative this time and there is a good chance that the company will beat our estimates."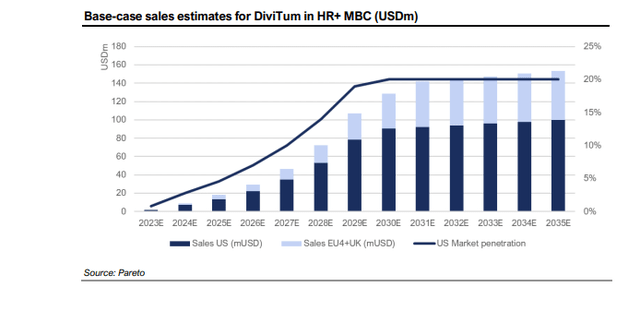 Valuation
There are only two brokers covering Biovica:
The current share price is around 9 SEK
Pareto Securities has a price target of SEK 32 (fair value now, only US, excluding EU and UK) and SEK 53 (fair value US, EU and UK), and
Redeye has a base case price target of SEK 95. The price target was issued before the latest capital raise, that diluted the shareholders by 37.5%. Although Redeye must have assumed the capital raise, for conservative purposes I adjust their price target for the dilution, which results in adjusted price target of SEK 69.
Even the lowest base case of SEK 32 represents a potential return of ~250% from the current share price.
Pareto valuation summary: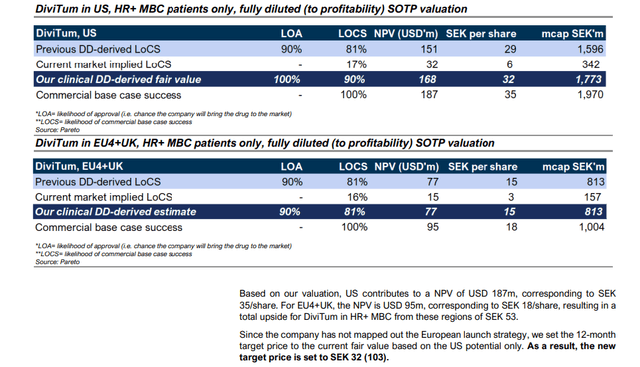 In my view Pareto is very conservative. Before the FDA delay, Biovica was their favorite biopharma pick. As Covid delayed the approval, the share price was sliding and Pareto investors lost money. That is the reason Pareto is now quite conservative. They also openly say this – see the quote above.
Pareto has two base case valuations – SEK 35 (US only), and SEK 53 (US+EU+UK).
Pareto in their base case takes into account only the US market, because "the company has not mapped out the European launch strategy" (see above). I understand from the call with management that took place after the research was published that the company plans to enter the European market through partnership with major European players. Further I understand that Biovica is engaged in discussion with several partners and that first such agreement may be announced already in 1Q23. When this happens, I believe the base price target of SEK 53 should become more relevant.
Another indication of the value potential is to look at the market valuation in 2021 before the FDA approval, when investors believed the approval was in sight. At that time Biovica was trading at a USD200 million market capitalization, five times higher than the current market capitalization of USD40 million.
The share price development will depend on how quickly the company is able to announce strong partnerships, and generate sales. There are two positives that speak in Biovica's favor:
High concentration of breast cancer care – 10% of cancer centers represent 50% of all breast cancer treatment costs,
Biovica has strong ties to the most prominent US hospitals, as many have already done client studies with DiviTum.
The company discloses many near term catalysts in their prospectus, that should help to gradually increase investor confidence in the story.
My base case is, that Biovica should reach the Pareto "lower" price target of SEK 35 this year and should well exceed its pre-FDA peak valuation next year. That would mean above 400% return within two years.
Risks
The main risks include adverse macro conditions that could result in an overall market sell-off, delays in new partnerships, delays in the product acceptance by the cancer centers, slower sales growth, bad market communication (overpromise and underdeliver), higher cash burn during the launch, higher dilution during the capital raise and general management mistakes.
Near Term Catalysts
There are many catalysts listed in the 2022 prospectus. I have adjusted the dates based on my discussions with the management:
• Launch of DiviTum TKa in the US – announcement of the first sales – 1Q23
• Announcement of the first partnerships for European market – 1Q23
• Announcement of the first commercial agreements with major US hospitals – 1Q23
• Application for the PLA code with Medicare – 1Q23
• Launch in the first European markets through partners – first sales 2Q23
• First sales through major US hospitals – 2Q23
• Obtaining the PLA code with Medicare – 2Q23
• At least one local agreement for Medicare – 2Q23
Not Priced In
Biovica is working on biomarkers for other cancer forms. The analysts do not talk about those in their recent research – their valuations are based only on the breast cancer biomarker test. As the breast cancer revenues start to increase, the analysts will start taking into their valuations the global potential related to the testing of other cancer forms.
At some point Biovica will likely become a takeover target for a global industry player.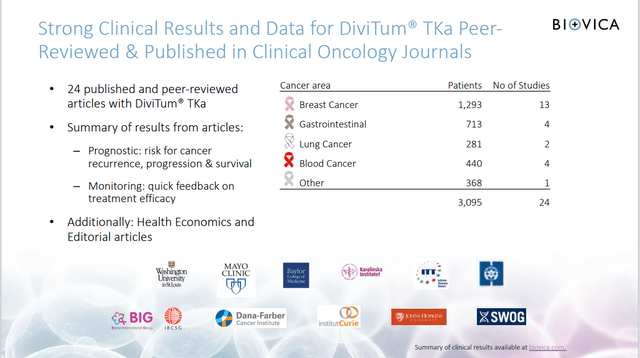 How can US Based Investors Buy
I have bought part of my position on Interactive Brokers. The ticker is BIOVIC.B in SFB market. I believe you can buy through other online platforms too.
Materials for Further Analysis
There are very useful materials on Biovica's IR site. Do look at the prospectus, presentations and the long recording from the investor day, that introduces the investment case in detail. I would also register for Biovica alerts on their web site and follow Biovica on Facebook, where they announce more details on their progress.
Conclusion
Cancer diagnostics is a strongly evolving field. Biomarkers are changing the way cancer is treated. Biovica has the first FDA approved biomarker cancer test and therefore is in line to become one of the market leaders in biomarker cancer testing.
Biovica cancer test can save lives by delivering results around 60 days earlier and 3-10 times cheaper than the current methods. The timely diagnoses if the selected cancer medication is working or not can materially decrease medications costs.
Biovica has a potential to disrupt the way cancer progress is tested. This would benefit the patients, the insurers and Biovica shareholders.
Disclosure:
The goal of the blog is to provide investment ideas for further research. I/we have a beneficial position in the shares discussed above either through stock ownership, options, or other derivatives. This article expresses my own opinions. I am not receiving compensation for it. I have no business relationship with any company whose stock is mentioned in this article. The article does not represent investment advice. Please do your own research before making any investment action.